This page may serve as just-in-time professional development to orient new instructors to Canvas. Scroll down after viewing the orientation for presentations on using the Canvas gradebook, and its companion, the speedgrader.
Tips for Viewing (click to expand)
The orientation has a menu to navigate to specific sections of interest, closed captions, and may be expanded to a new full window by right-mouse clicking over it and choosing the command to open it in a new window.
The Canvas Gradebook, and the Speedgrader
Click to expand and view the screencast on the Canvas Gradebook
Click to expand and vew the screencast on using the Speedgrader
Recent Posts
Extending assignment deadlines in Canvas As a Canvas instructor, you will occasionally deal with extending a deadline for a student who has legitimate extenuating circumstances, but you will want to keep the same deadline for all other students intact.  The following screencast on Microsoft Stream shows you how to do this.   You may be prompted to enter your USF portal username ...
Canvas Exam Analytics To learn about student performance and to evaluate the effectiveness of individual exam questions.
Adding Custom Questions to a Course Section as an Instructor Adding Custom Questions to a Course Section as an Instructor
Screencasting with Arc Video Using Arc Video in Canvas, you can record a screencast of a website or a software operation for instructional purposes, in minutes.  The screencast is saved and embedded in a content page, discussion posting, or any Canvas content that uses the rich content editor.  Students may be prompted to discuss the presentation on the video ...
Canvas for Instructors This page may serve as just-in-time professional development to orient new instructors to Canvas. Scroll down after viewing the orientation for presentations on using the Canvas gradebook, and its companion, the speedgrader. The Canvas Gradebook, and the Speedgrader Recent Posts
Download instructional resources from Canvas Commons Commons in Canvas is a repository of instructional content (modules, content pages, assignments, etc.) that is available from the global navigation bar of Canvas. The video tutorial will introduce Commons and show you the steps for adding a resource to your Canvas course.  You may need to log on with your USF portal username and portal ...
Place Microsoft Stream content in Canvas

There are at least two ways to place Microsoft Stream content into Canvas– by way of a link; or an embed code. Another way is to download the video and upload it into Arc Video to include a conversation about the video. First you go to the USF portal and from the Tools menu, select ...
Easy Movie Maker (free) for Windows 10 One way to create and edit videos, from a webcam, or from video clips recorded on a camcorder or cell phone, is this free solution from Microsoft:  Easy Movie Maker. See the 7 minute walk-through from a first-time user.
Canvas App for Teachers

The newly introduced Canvas App for Teachers enables instructors to quickly review discussions, assignments and other features, and should get better over time. See the one minute video intro:
Arc Video Overview

Arc Video is a service that combines media and conversation in a way that builds social engagement with video in Canvas. For faculty, Arc fits well with assignments in creating the ability to assess student videos, creating meaningful discussions, and other collaborative/cooperative learning activities.  Watch the preview video: This video may require you to login with ...
Canvas Groups Easier to Access, Navigate With its October 29, 2016, incremental release, Canvas has updated and made easier the way groups are navigated by the instructor. The easy steps are shown in this 1 minute 31 second screencast: 
How to Create a Discussion in Canvas that Will Build a Learning Community A combination of technical proficiency and pedagogy will result in a discussion topic in Canvas that will foster the growth of a learning community. Here is a 4 minute screencast that shows the techniques and conceptual development of a discussion that encourages participation by students.  The steps covered in the screencast are depicted in this tutorial ...
SpeedGrader Gets a Makeover Canvas has rearranged the student navigation buttons to make certain functions more closely associated with the most frequently used features in Speedgrader. The less frequently used navigation buttons have been shifted to the left side of the menubar:  gradebook, mute the assignment, keyboard shortcuts, help menu, and gradebook settings. Assignment details and grading statistics are located ...
Get Oriented to the New Canvas UI

By now you may have heard that Canvas will be changing over to a colorful new user interface on May 16, 2016. And that is inevitable. But it's got some notable features including flatter navigation (not as much clicking), alerts of events happening in each course, and those colorful course icons that you can customize. ...
Create Group Assignments in Canvas Once a group of students has been created in Canvas, the instructor can set up an assignment to be submitted by groups. The steps are shown in the screencast.  
A Simple Method for Distributing Students to Groups in Canvas The simplest way to create groups in Canvas is to randomly distribute students into the number of groups you set up.  The screencast shows how.
Quicktime Movie Does Not Upload to Canvas Apple iPhone and Macintosh users are discovering that they cannot successfully submit Quicktime (.mov) videos to Canvas assignments. What the users see is a message that says the video is "currently being processed. Try again in a little bit".  Only it never finishes processing.  The workaround for this is in three stages: First, save your video ...
Canvas Production Release Notes (2015-10-10) | Canvas Community When Canvas is updated October 10, faculty may select optional assignments that students may choose to complete within a module. The production release notes show how this will work. Source: Canvas Production Release Notes (2015-10-10) | Canvas Community
Embed an Office Mix into the Rich Content Editor in Canvas Office Mix has been retired by Microsoft.  For information about recording Powerpoints, please turn to Recording a Powerpoint for Web Access.
Create Recurring Events in the Canvas Calendar Canvas gives you the ability to create a recurring or repeating event in your course calendar in a single series of actions, as the screencast will show you.  You can also print a handout: Recurring Calendar events
Create closed captions for a video on your own For videos uploaded or recorded directly to Canvas, there is a way to create closed captions if you have excellent keyboarding skills. This 6-minute demonstration shows the steps. Demonstration of Creating Closed Captions for a Canvas Video from Academic Technology on Vimeo.
Restricting File Types requires Perfect Typing
When you are setting file types for assignment submissions in Canvas, you must be letter perfect in your typing if you are going to restrict those file types to, for instance, Word documents ("docx").  The demonstration here goes into further detail.
Inserting or Embedding an Image into a Canvas post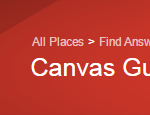 When you are replying to a discussion message or writing an entry for an assignment as a text submission, you are using the "rich content editor" in Canvas.  There are a couple of ways to incorporate images into your content that you can find by searching the Canvas Guides. But here are a couple of individual ...
Make Your Canvas Course Public (but keep student confidentiality intact) Do you want to make your Canvas course visible to the public, to showcase your online teaching capabilities? You can, and keep your students' information safe under a protection of confidentiality. Learn how: First, you have to select "Settings" from your Canvas course menu, which will be on the left, as shown in the image at ...