Office Mix is a tool that installs on your Powerpoint 2013 ribbon that gives you the ability to narrate Powerpoints, include screencasts, images, videos, and interactive self-tests, and post the presentation to the web by way of the Office Mix cloud storage system.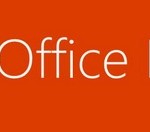 Office Mix is a free plug-in that installs within Powerpoint, and gives you the ability to record narration (among other things) and publish your slide show on the web for easy access. You have to an account with Microsoft in order to use Office Mix, and this tutorial shows you how to do so .
Office Mix will host the Mix that you upload to it, and provide you with controls to make the Mix public or to limit the mix to viewing by just yourself or a few others. You can make the Mix unlisted as well, but still viewable. Here is the screencast that shows you how to upload the mix and modify its accessibility.  
Once you have installed Office Mix in Powerpoint, you find it as a new tab with user controls that enable you to record a Mix, which is what you will learn how to do through this screencast .